A hybrid mattress is a multi-layer bed that combines memory foam, latex, or gel along with an innerspring system. Sleepers can experience both the pressure relief of the foam layers and the sturdy feel of a classic spring mattress. Talk about the perfect blend!
Let's dive into the hype around these beds and how they're changing the (sleeping) game.
What are the components of a hybrid bed?
Let's take a look under the covers at the components of these hybrid beds and what makes them unique:
Base layer: Usually made of foam, this 1-inch layer at the base provides padding, sturdiness, and stability.
Support core: The support core forms the bulk of the mattress height at 7 to 8 inches. Pocket-wrapped coils and springs provide spinal support.
Comfort layer: This is the layer that you rest on, made of cushioned components like memory foam, latex, and cool-inducing gel. This is typically 3 to 4 inches of body-hugging material.
Euro top: Available on a small number of hybrids, the 1 to 2 inch Eurotop is sewn on top of the comfort layer to provide additional cushioning.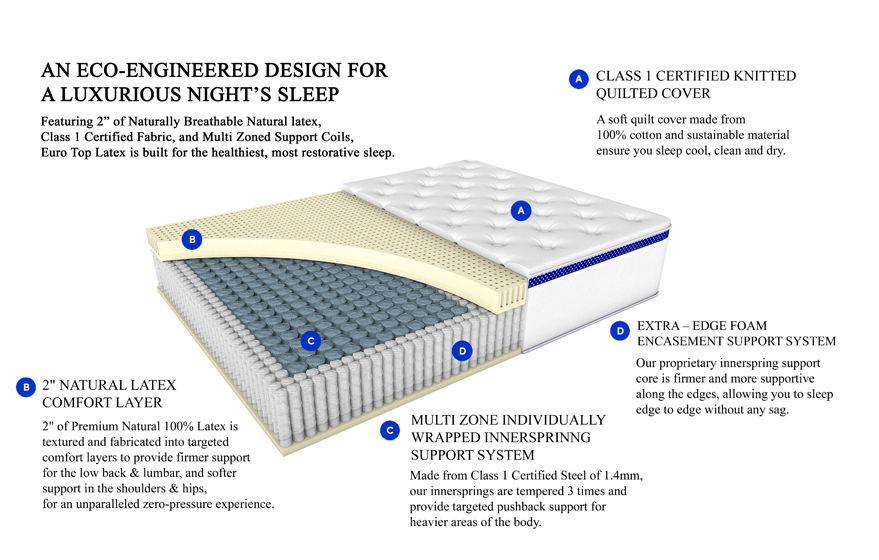 Foundation: A layer of pocket coil springs and base foam provides end-to-end edge support.
Zoned layer: A foam layer that contours to the hips and shoulders and aligns the spinal cord.
High Resilience foam: A comfort layer that helps to relieve pressure points in the body.
2" Natural Latex Comfort Layer: A breathable natural latex layer that contains tiny pores to allow hot air to escape.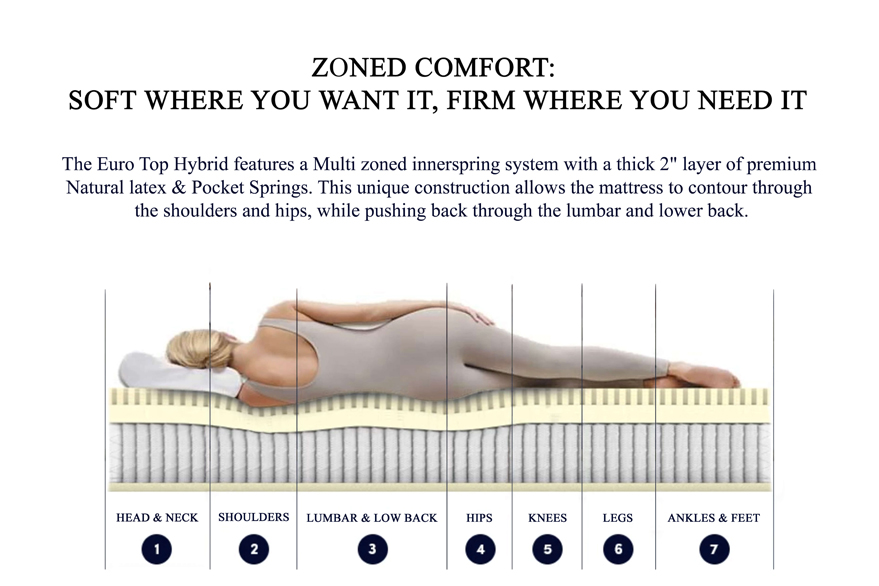 What is the difference between a hybrid mattress and a memory foam mattress?
Memory foam mattresses are often buzzed about in the mattress world. Combining layers of foam, these beds react to body heat and pressure to mould to the curves of your body. The viscoelastic material absorbs excess motion, allowing you to melt into the mattress.
Hybrid mattresses unite memory foam and a foundation of pocket-wrapped coils. The springs provide that "jump on the bed" feel that people love in a spring mattress while the foam envelops you with that cloud-like embrace.
What is the difference between a hybrid mattress and a gel mattress?
A gel mattress contains both gel and foam. Liquid gel is infused in the foam, providing a heat-diffusing environment to keep you cool during your slumber. A hybrid mattress may contain gel, but also contains foam and springs for additional support.
How long do hybrid mattresses last?
Hybrid mattresses typically last around 7 to 10 years — possibly longer if properly cared for. A good rule of thumb is to replace your mattress every 10 years. At Springtek, we provide a 10-year limited warranty* to ensure you have a sound sleep year after year.
Do you need a box spring with a hybrid mattress?
Unlike a traditional mattress, hybrid mattresses do not need a box spring and can be set on slatted platform beds. If you desire more height, you can opt to set the mattress on a box spring. For more customization, adjustable bed frames can be used to shift the mattresses and move your head and feet to where they can get comfy.
Is a hybrid mattress good for back pain?
A key component to preventing back pain is to align your spine and maintain good posture. A mattress that is too firm or not firm enough won't support your spine at your neck and lower back. A gap between your body and the mattress means these areas lack support.
Hybrids can go a long way in taking care of your back pain. The targeted foam layers can help cushion these spinal points, raise the hips, and relax your muscles and ligaments. The springs provide that nice bounce-back for enhanced support, while gels can enhance your overall sleep quality.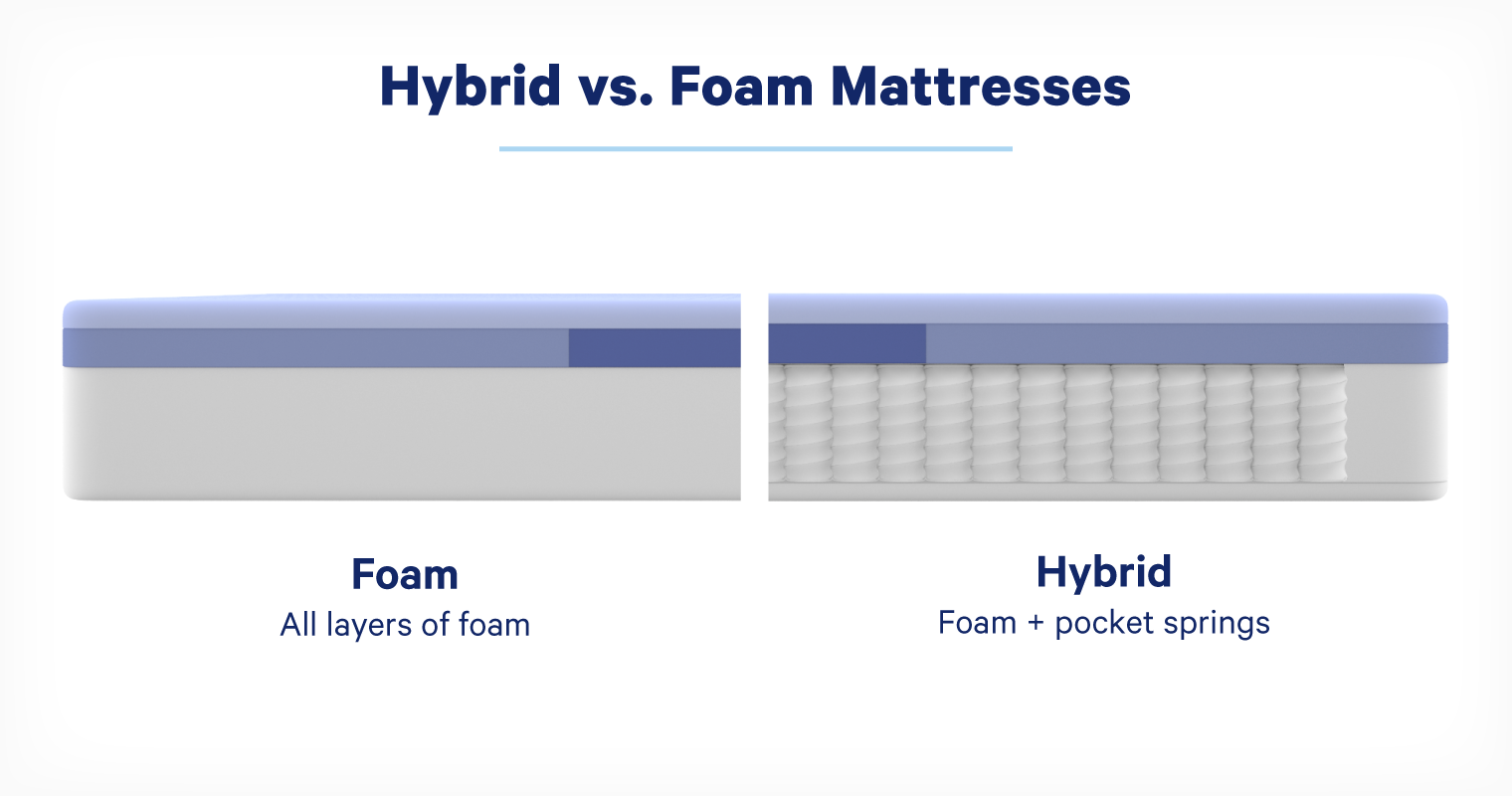 How much does a hybrid mattress cost?
A quality queen-size hybrid bed mattress costs Rs. 30,400 on average, with high-end models reaching as high as Rs. 85,000.
At Springtek, we believe your best sleep ever shouldn't need that high-end price tag. A queen-size Springtek Hybrid Latex Pocket Spring provides a comfortable sleep for Rs. 18000. For those who want a more decadent, luxurious sleep, 100% Natural Latex Dunlop Mattress is Rs 38,399.
With their blend of comfort and support, hybrid mattresses provide your sleep with the best of both worlds. Ready to go hybrid? Discover what it means to have your most comfortable sleep with The Springtek Dreamer and Hybrid Mattress.